Police Agree to Investigate Raytheon's Role in War Crimes
Nine Women obstruct doors inside Raytheon Plant Derry
Nine women obstructed doors inside Raytheon plant in Derry by chaining themselves together and to the doors. They were protesting against the use of Raytheon's weapons by Israel in the commission of war crimes in Gaza. They also called upon the local police to investigate Raytheon's participation in such crimes.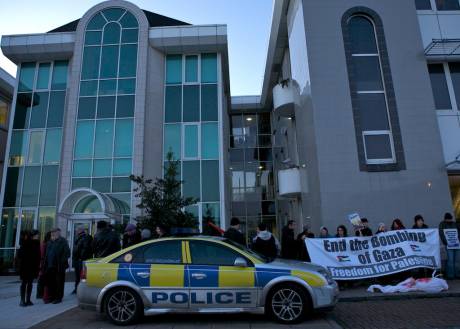 Protestors gather in solidarity outside Raytheon, while nine women (centre of picture) sit inside chained to an internal door.
On Monday 12th Jan. 09 nine Derry women entered the building that houses Raytheon and chained themselves to each other and to the internal doors leading to Rayhtheon's part of the building.
After some time inside they started negotiating with Chief Inspector Chris Yates, of the PSNI.
The women made it clear that they were there to highlight Raytheon's participation in war crimes and that they would come out if the police agreed to investigate the extent to which Raytheon was implicated in the war crimes being carried out in Gaza using weapons created and supported by Raytheon.
At 5:45 pm the women emerged to be greeted by loud cheering and chanting from the anti-war campaigners outside.
Goretti Horgan of Derry Antiwar Coalition spoke briefly to the crowd, saying that as long as Raytheon's weapons continued to be used to kill innocent people they can be assured that Derry people will continue to protest about their presence here.
DAWC issued the following statements:
Statement issued by the women as they entered the Raytheon premises:
DERRY ANTI WAR COALITION
FROM NINE WOMEN WHO HAVE CHAINED THEMSELVES INSIDE THE RAYTHEON BUILDING AT SPRINGTOWN TODAY (JANUARY 12th) AT 2.30PM
We have taken this action in an effort to prevent or delay war crimes being committed by the Israeli Defence Forces in Gaza with the use of Raytheon weapons and to try to force a criminal investigation into the activities of the Raytheon company in Derry and elsewhere which, we believe, amount to complicity in war crimes.
Like millions of others, we have watched television pictures of innocent people being slaughtered since the Israeli assault on Gaza began on December 27th, and have wanted it to stop. But nobody with the power to make it stop seems willing to intervene to do so.
Lawyers and international human rights organisations have declared that the Israeli bombing and shelling of Gaza involves war crimes. The bombing of a UN-sponsored school on January 6th, killing at least 40 civilians, including children, has merely been the worst of these war crimes.
Raytheon is one of Israel's main suppliers of the weapons being used in the attacks on Gaza. The company is either aware or doesn't care that its weapons are being used to commit war crimes.
Raytheon is aiding and abetting Israel in committing these war crimes against the people of Gaza. We are trying to stop them.
We hope that we encourage others to take similar action against other Raytheon plants and against arms companies generally.
We call for a criminal investigation into the activities of the Raytheon company in Ireland, Britain and elsewhere with a view to the prosecution of Raytheon executives for complicity in war crimes.
We call on all political parties, community groups, trades unions, churches and others in the Derry area to say clearly that we do not want a company involved in war crimes in our town and to declare that Raytheon should get out.
STATEMENT ISSUED BY THE WOMEN IMMEDIATELY AFTER LEAVING THE BUILDING AT SIX PM.
A deputation from the Derry Anti-War Coalition is to meet with senior PSNI officers this week to present evidence which, they say, warrants a criminal investigation into the Raytheon company.
The coalition says that an agreement by the PSNI to formally consider the evidence was one of the reasons for ending the protest at Raytheon in which nine women chained themselves together inside the building.
A spokeswoman for the nine said: "While inside the building, we had a series of discussions with the Foyle commander of the PSNI, Chris Yates. As a result of these discussions between ourselves and Chief Inspector Yates, it was agreed that he would accept delivery of our dossier of evidence and arrange that it be studied to determine whether a basis exists for criminal charges against Raytheon.
We thank all those who gathered outside Raytheon to support our action. The Derry Anti War Coalition again calls on the local political parties to join us in demanding that Raytheon get out of Derry