IPSC & Phoenix magazine publish 16-page feature on Palestine
Prominent Irish, Palestinian and South African public figures call for boycott of Israel
Thursday 20th May 2010, saw the publication of a landmark document, a 16-page full colour feature entitled Goldstone Report Feature: War Crimes in Apartheid Israel. The document features contributions from many leading anti-apartheid campaigners, trade unionists, politicians, journalists and other public figures, including Kader Asmal, Col. Desmond Travers, Minister Ciaran Cuffe and Jamal Juma'.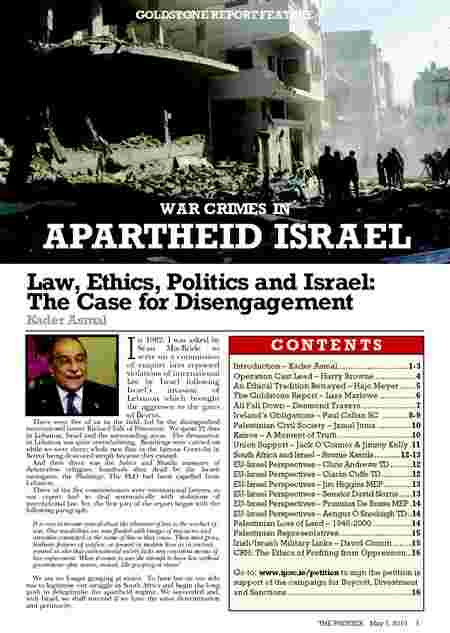 Cover of the IPSC/Phoenix Booklet
Coming bundled with the May 20th edition of Phoenix magazine, the booklet is notable not only for the range of it's contributers, but also for the fact that it features Irish politicians from all the Dail parties calling for sanctions against Israel - chiefly the suspension of Israel from the Euro-Med Agreement.
It takes the Goldstone Report as its point of departure for a critique of Israeli impunity, and asks whether the EU, instead of taking Israel to task for its crimes, has instead been complicit in those crimes. It also encourages civil society to support the international BDS (boycott, divestment, sanctions) campaign against apartheid Israel until it ends its crimes against the Palestinian people. Topics covered in the feature include: Operation Cast Lead and the Goldstone Report; Israel's apartheid regime; Ireland's obligations to the victims of war crimes; Boycott, Divestment and Sanctions (BDS); Trade Union solidarity with Palestine; Irish/Israeli military links; CRH and the Apartheid Wall; and EU-Israeli relations.
The publication was launched at a press conference in Buswell's Hotel chaired by Dr. David Landy (Chair of the Ireland Palestine Solidarity Campaign) and on the panel were Adnan Shabab (representing the Palestinian Delegation to Ireland), Sen. Mark Dearey (Green Party Foreign Affairs spokesperson), Chris Andrews TD (Fianna Fail), Aengus O Snodaigh TD (Sinn Fein spokesperson on Justice and Equality and International Affairs), Sen. David Norris (Independent), Michael Taft (representing UNITE trade union) and Anne Speed (representing ICTU).
Speaking at the conference, Dr. Landy said: "The Goldstone Report is a central document – not simply for Palestine and Israel but for the future of international law. The issue of whether it is ratified and acted on will shape the world we live in. For Palestine it will answer the question – is the international community prepared to tolerate Israeli massacres and grant impunity to Israeli war crimes? The answer we give will determine whether Israel feels it can conduct future war crimes with impunity.
Dr. Landy continued: "We are delighted that people from all political parties and walks of life are featured in this supplement. The supplement showcases the diversity of voices speaking out on Palestine, in Ireland and abroad. In it, the writers move beyond rhetoric and indicate the concrete actions that they felt we, as a nation, should take." (Dr. Landy's full speech is available here: http://www.ipsc.ie/multimedia/IPSC_Launch_of_Phoenix_Su...y.mp3)
It is hoped that this booklet - which will also be available from the IPSC and selected bookshops - will become an educational, lobbying and mobilising tool for Palestinian solidarity in Ireland.
IPSC/Phoenix Booklet on Palestine - Contents
Law, Ethics, Politics and Israel: The Case for Disengagement – Kader Asmal
Operation Cast Lead – Harry Browne
An Ethical Tradition Betrayed – Hajo Meyer
The Goldstone Report – Lara Marlowe
Operation Cast Lead and the Dahiyia Doctrine: All Fall Down! – Col. Desmond Travers
Ireland's Obligations to the Victims of War Crimes – Paul Callan SC
Goldstone and the attack on Palestinian civil society – Jamal Juma'
Kairos – A Moment of Truth
Trade Union Support – Jack O'Connor & Jimmy Kelly
Overcoming Apartheid: South Africa & Israel – Ronnie Kasrils
EU-Israel Perspectives – Chris Andrews TD, Ciarán Cuffe TD, Jim Higgins MEP, Senator David Norris, Proinsias De Rossa MEP and Aengus Ó Snodaigh TD
Palestinian Representatives Call for Sanctions - Usama Hamdan & Dr. Hikmat Ajjuri
Irish/Israeli Military Links – David Cronin
CRH: The Ethics of Profiting from Oppression


Press Conference: (L-R) Adnan Shabab, Sen. Mark Deary, Chris Andrews TD, Dr. David Landy, Sen. Mark Dearey, Chris Andrews TD, Aengus O Snodaigh TD, Sen. David Norris, Michael Taft, Anne Speed