Events
Sunday, September 27, 2009
End: 13:00
Start: 26/09/2009 - 13:00
End: 27/09/2009 - 13:00
A Call for Women
to a 24-hour Intervention/Mediation/Knit-in at Shannon Airport
from 1pm Saturday 26th September to 1pm Sunday 27th September
to reclaim our civilian airport from the military.
A Call for Women
to implement UN Resolutions 1325 and 1820 for women to be part of conflict resolution and peace processes.
Monday, October 12, 2009
Start: 17:30
End: 19:30
We call on all supporters of the Miami Five to join us in a candle-lit vigil outside the American Embassy at 5.30 to 7.30pm on 12th October 2009.
In June 2008, the Eleventh Circuit Court of Appeals in Atlanta ruled that the sentences given to Ramon, Antonio and Fernando were imposed incorrectly and agreed to return them to the original biased Miami court for reconsideration of their sentences before the same vindictive judge.
Tuesday, October 13, 2009
Start: 18:00
End: 19:30
On Tuesday 23th October, the IPSC Society in NUIM are proud to present activists from the Free Gaza Movement Caoimhe Butterly, Derek Graham and Ramzi Kysia. They will speak in NUI Maynooth, building support for the Irish boat set for Gaza at the end of October.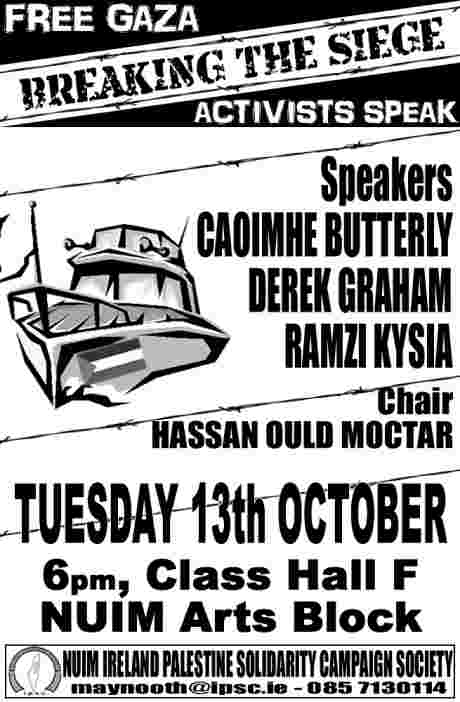 The talk will take place at 6pm in Class Hall F, NUIM Arts Block
Friday, October 16, 2009
Start: 19:00
End: 22:30
Once Concert - Two Cities

Friday 16th October, 7pm
Tripod, Harcourt St, Dublin 2
Entry: €15 - Book Here: http://www.pod.ie/
Saturday, October 17, 2009
Start: 11:00
End: 16:00
This year the IPSC Sponsored Hill Walk will take place on Saturday 17th October. We will be setting off from The Step Inn in Stepaside, Co. Dublin at 11.00am and finishing up with a meal and some liquid sustenance in Enniskerry.
Tuesday, October 20, 2009