Dublin: Free Gaza Activists Caoimhe Butterly, Derek Graham and Ramzi Kysia Speak
On Tuesday 23th October, the IPSC Dublin branch are proud to present activists from the Free Gaza Movement, Caoimhe Butterly, Derek Graham and Ramzi Kysia.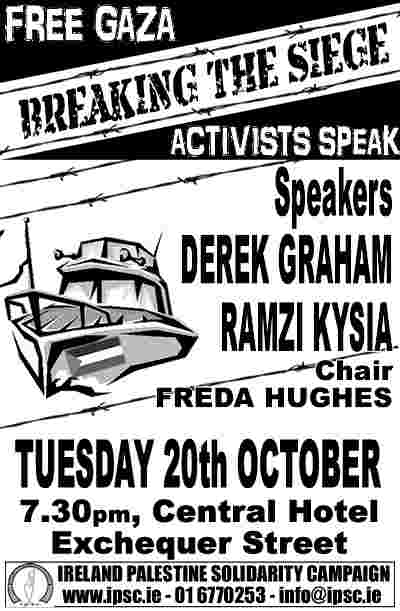 Poster (please note, Caoimhe Butterly is also scheduled to speak - the poster was created before confirmation)
Caoimhe is a world renowned Irish human rights activist who has worked for Palestinian rights in the West Bank (where she was shot in the leg by the Israeli military), Gaza and refugee camps in Lebanon. Ramzi is a Director of the Movement and Derek is a Director and was the first mate on several of the siege breaking voyages. In 2009 he, along with other activists, was kidnapped on the high seas, jailed in Israel and deported.
They will speak in The Central Hotel, Exchequer Street on Tuesday 20th October at 7.30pm to build support for the Irish boat set for Gaza in November.
For more about the Irish boat, please see here: http://cosmos.ucc.ie/cs1064/jabowen/IPSC/ipsc/displayRe...D=161