RCSI Film Screening: Occupation 101
Occupation 101: Voices of the Silenced Majority is an award winning 2006 documentary on the Israeli-Palestinian conflict. The film focuses on the effects of the Israeli occupation of the West Bank and Gaza Strip, and discusses events from the rise of Zionism to the Second Intifada. Occupation 101 includes interviews with mostly American and Israeli scholars, religious leaders, humanitarian workers, and NGO representatives.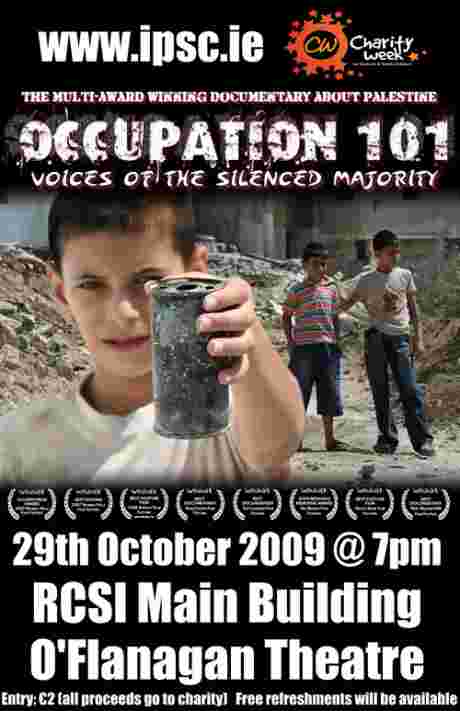 Featured interviews include :
Richard Falk. 2001 United Nations Fact-finding Commission in the West Bank and Gaza.
Amira Hass. Israeli journalist - Ha'aretz.
Professor Ilan Pappe. Israeli historian - Haifa University (now University of Exeter).
Professor Noam Chomsky. Linguist - MIT Professor.
Father Drew Christiansen. United States Catholic Conference.
Douglas Dicks. Catholic Relief Services in Jerusalem. Outreach program director.
Professor Rashid Khalidi. School of International and Public Affairs, Columbia Univ.
Entry fee: €2
Refreshments will be available free of charge.
All proceedings will go to charity as part of the RCSI charity week fundraiser for Orphans around the globe.
All are welcome.
For enquiries call: 0860774563